Shipwreck: Grenland
Skip Gillham Vineland, Ontario, Canada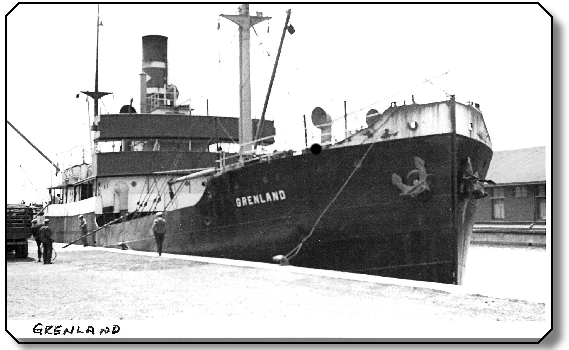 The Norwegian freighter GRENLAND visited the Great Lakes at a time when the sight of a deep sea ship on the freshwater lakes was infrequent, especially when compared to today.
This small vessel had been built at Bergen, Norway, and was completed in December 1919. It began trading for P Lindoe of Norway as the ERICH LINDOE The ship measured only 257 feet, 10 inches in overall length and 37.9 feet at the beam. This enabled the 1,497 gross ton carrier to fit through the myriad of locks connecting the St Lawrence River at Montreal to its source in Lake Ontario and then, via the third Welland Canal bypassing Niagara Falls, on to Lake Erie.
While the ERICH LINDOE is known to have visited the Great Lakes in the 1920s, details on where and when it traveled are not available.
The ship was sold to Rederi A/S Harald Grenske in 1928 and renamed GRENLAND. It made two trips inland in 1933 and is shown at Toronto in a photo by Alfred King.
The ship was resold to another Norwegian firm in 1937 and became HILDUR I. It too brought cargoes across the Atlantic to the Great Lakes until World War Two interrupted its regular service. Duty called to serve Allied interests on deep sea runs and the ship managed to survive the dangers that lurked on, above or beneath the surface of the sea. HILDUR I returned to private interests after peace had been won and came back to the Great Lakes, likely for the last time, as late as 1953.
In 1956, the ship was sold to another Norwegian fl ag company and renamed RAAGAN. By now the aging ship was involved in short sea runs and handled a variety of cargoes.
RAAGAN had just begun its 49th year of service when tragedy struck. The vessel was en route from Egersund, Denmark, to Dordrecht, Holland, with a cargo of titanium when leaks began to develop in the well traveled hull. All on board were able to get off the ship safely before RAAGAN slipped beneath the surface of the North Sea about 60 miles off the Dutch coast on January 2, 1967.
The vessel had a long and productive life and had served various owners in peace and in war. The ship had come to the Great Lakes under three different names and for three different companies and sailed on a variety of saltwater routes
Back to top