Shipwreck: TRANSATLANTIC and HERMES Collided a Half-Century Ago
Skip Gillham Vineland, Ontario, Canada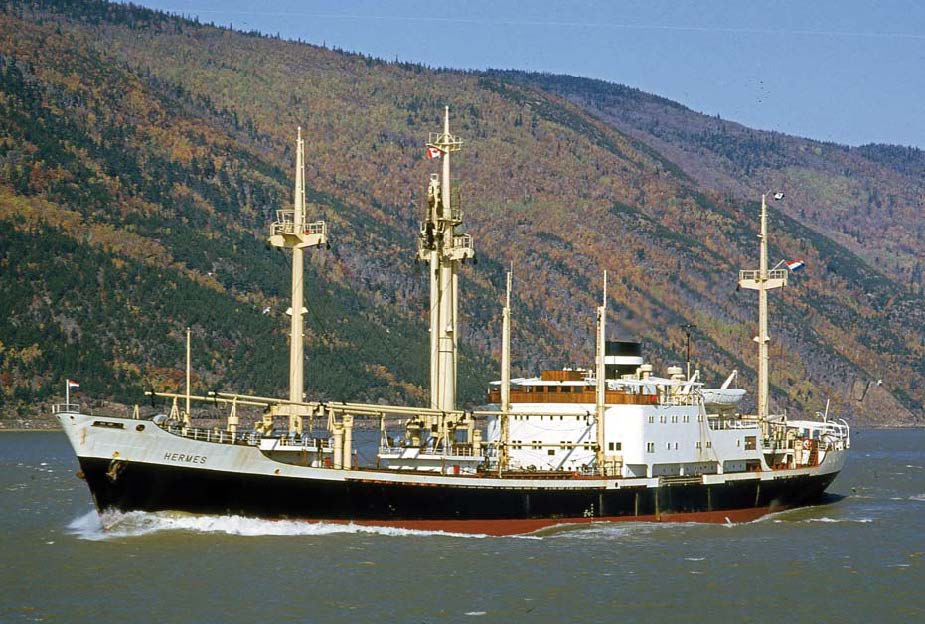 Two ocean going freighters collided in the Lake St. Peter section of the St. Lawrence River on April 10, 1965; and one became a total loss. The casualty was the West German general cargo ship TRANSATLANTIC. A 406 ft, 11 inch vessel was part of the Poseidon Line and had served them well after being completed at Lubeck, in May 1954. While designed for saltwater service, the opening of the St. Lawrence Seaway in 1959 allowed ships of this size to enter the Great Lakes and TRANSATLANTIC began trips to the freshwater lakes with four visits in 1961. It returned on a regular basis and had made 16 inland voyages to the end of the 1964 season. There was supposed to be more but this ended tragically 50 years ago last April.
HERMES, the second ship involved in the collision, was a much newer carrier. It was launched at Capelle, Netherlands, on Oct. 6, 1961, and was completed the following April for Dutch flag service. This 424 ft long freighter could handle refrigerated cargoes and had a capacity of 6,897 tons deadweight.
While HERMES had not been a Great Lakes trader, it had come inland as far as Sorel, Quebec; and departed there, for the sea, on April 10, 1965. Visibility was clear as HERMES approached the inbound TRANSATLANTIC and as it moved over to give plenty of room to pass, the stern got sucked into the shore sending the HERMES out of control. The bow veered into up bound lane and struck TRANSATLANTIC on the port side.
TRANSATLANTIC was heavily damaged, burst into flames, and was soon on the bottom of the river. Three lives were lost on the latter ship while HERMES suffered considerable bow damage and ultimately had to go to Montreal for bow repairs.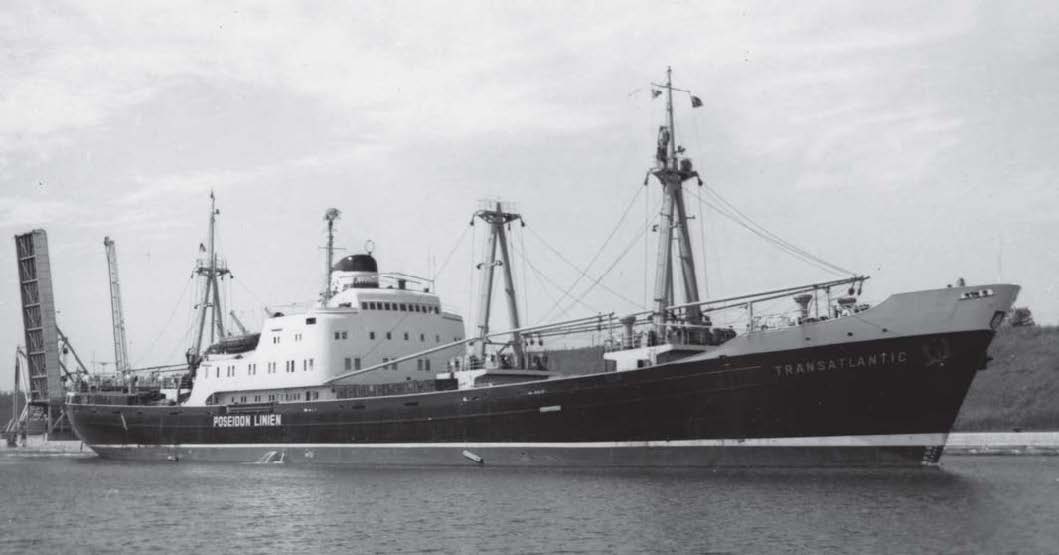 The sunken freighter was salvaged in August 1965, taken to Sorel, and laid up. There was some thought of using equipment parts for a new tanker under construction. But the Canadian Government said the local shipyard would still have to pay customs duties on the 11 year old equipment so the hull was broken up for scrap at Sorel in 1967.
HERMES never did reach the Great Lakes. It returned to Montreal as the Panamanian flag carrier NIKI R. in October 1978, and was eventually dismantled as such at Calcutta, India, during 1984-1985. A $13.5 million lawsuit followed with the Canadian Department of Transport being blamed for the fact that the channel range lights had shifted resulting in HERMES getting into shallower water close to shore causing the suction that sent it out of control. As a result of the inquiry, blame was assigned to all quarters but the heaviest responsibility of liability fell to the Canadian Government as the lights had been out of alignment for some time.
Back to top