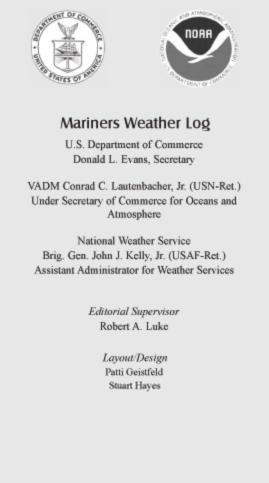 Articles, photographs, and letters should be sent to:

Mr. Robert A. Luke, Editorial Supervisor
Mariners Weather Log
NDBC (W/OPS 52)
Building 3203, Room 305B
Stennis Space Center, MS 39529-6000

Phone: (228) 688-1457
Fax: (228) 688-3923
E-mail: robert.luke@noaa.gov
Hello, and welcome to the Mariners Weather Log (MWL). This has been an exciting time since we last had time to chat. As I mentioned in the last issue, we are now back to offering three issues per year of the MWL. It was a bit rough getting back into the three issue routine. In the past, as soon as I put one issue to bed, I was right at the next. Going to just two issues offered me a bit of a breather to help my sanity a bit. Of course, just like under way times, when you have too much free time between watches, the Captain always finds a "Special Project" just for you. Oh well, guess that is what they pay me for anyway.
In this issue we have some exciting news, we now have a new PMO office active and on line down in sunny Charleston, SC. Mr. Tim Kenefick, who has been our PMO up in Newark for the past eight years, has finally figured which exit to take off the turnpike and is now down south waiting to support y'all from the old Navy Yard. A replacement PMO is in the process of being hired to keep up Tim's legacy in Newark and beyond. This information and much more can be found in our new "Region News" section. This section is to showcase the efforts of the PMOs, Forecast Offices, and of course, the VOS ships in the six different regions of our VOS program.
Also in this issue is another great article from Jamie Rhome (Tropical Prediction Center) on the use of satellites to assist in forecasting out at sea. We also have a second stellar piece from the Ocean Prediction Center (OPC) on how Scatterometer technology aids in marine wind warnings, and a two for one offering from the International Ice Patrol to get us ready for the upcoming winter season.
Thank you once again for your efforts in our VOS program. You are our windows to the sea and are greatly appreciated even if we do not say it as often as we should. It is my holiday wish that each and every one of you return safely from Neptune's playground and have an enjoyable and memorable holiday season with those you love. Remember that no matter what course you may chart, the only true snug harbor is in the arms of the loved ones left ashore.
Happy Holidays - Luke