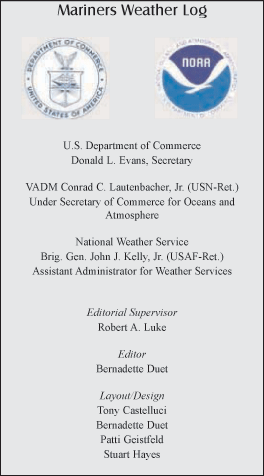 Articles, photographs, and letters should be sent to:

Mr. Robert A. Luke, Editorial Supervisor
Mariners Weather Log
NDBC (W/OPS 52)
Building 1100, Room 353D
Stennis Space Center, MS 39529-6000
Phone: (228) 688-1457
Fax: (228) 688-3153
E--mail: robert.luke@noaa.gov
Hello, and welcome to another issue of the Mariners Weather Log (MWL). It has been some time since we last chatted, and a lot of things have happened. In the past issue, we talked about a pillar of the VOS program, Mr. Jim Nelson, retiring as Port Meteorological Officer (PMO) in Houston. Since then, we have welcomed aboard a new family member, Mr. Chris Fakes, who signed on to take over the daunting tasks left in the wake of Jimís departure. Chris comes to us with nearly 30 years of experience as a Navy Meteorologist, so he should fit in nicely into this roguesí gallery. Although he was too shy to record his life story in this issue, perhaps he can be persuaded to provide his biography for the next issue.
And while we are on the topic of departing and arriving personnel, we need to say goodbye to Mr. Lynn Chrystal, who did a stellar job as a part-time PMO up in Kodiak, AK. But, we did not leave this vital duty vacant. No-Siree! I want to welcome Ms. Debra Russell as our new PMO in Kodiak. Debra comes to us from King Salmon, AK and has already been doing an outstanding job in support of VOS. (See story on p. 7)
Speaking of change, it is time for you to help us make the MWL better. Please take the time to fill out the questionnaire found on p. 3 and mail it back in to us. We look forward to hearing from you to see what course you want the MWL to steer.
Other offerings this issue include a great but tragic story of the recent events onboard the GALAXY in the Bering Sea, a new training technique at the Maine Maritime Academy, and some noteworthy analysis reports from the Marine Prediction Center. You will also see the return of the Cooperative Ship Report on page 90. This National Climatic Data Center (NCDC) statistical report has been modified and tested, and is once again operational.
So, please grab a cup of coffee, find a comfy place to sit, and enjoy our offering of the MWL.
Happy Holidays! - Luke