Peggy Ann (Shaske) Alander 1958-2008,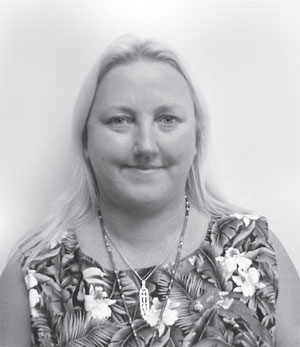 Port Meteorological Officer (PMO) for South Florida based at Port Everglades (Fort Lauderdale), passed away on Friday September 12, 2008, at her home in Lake Worth, Florida, after several years battling with cancer.
Peggy was born on August 9, 1958 in Sheboygan, Wisconsin, but the family moved to Lakeland, Florida where Peggy graduated from Lakeland Kathleen High School in 1976. She went into the U.S. Navy immediately after high school, and served with distinction for 20 years.
One of her duty stations in the Navy was Keflavik Naval Air Station, Iceland, where she met her husband Steve Alander. They married in 1979 and had two children, Amanda Jean Alander Neth, of Ketchikan, Alaska, who is expecting their first child and Peggy and Steve's first grandchild, and Jacob Alander, who is currently serving in the U.S. Navy. Peggy was a graduate of Florida Keys Community College (AA 1992) and Embry-Riddle Aeronautical University (BS 1996, MAS 2004). Peggy worked with contract upper air observations at Key West in the 1990s before accepting a permanent appointment as a Meteorological Technician with the National Weather Service (NWS) Weather Forecast Office (WFO) in Goodland, Kansas in December of 2002. In August 2003, Peggy was selected for the PMO position at Port Everglades (Fort Lauderdale), Florida, and did excellent work in that position until her health began to give out in the late summer of 2008. While with the NWS only a short time, Peggy received numerous awards, including five Special Act Awards and six Cash-in-your- Account (CIYA) Awards. In addition, Peggy also received a Southern Region Director's Award for Teamwork in 2008. In the last two years, Peggy had been working on her certification for meteorologist positions with the NWS. Peggy enjoyed her work, and was especially pleased when meteorologists from the Weather Forecast Offices and the National Hurricane Center would come to her to see how weather observations are taken on ships at sea. In the words of a 2005 letter from Derrick Snowden of NOAA's Global Ocean Observing System Center, "Peggy's personable nature and team first attitude were very refreshing and without her help, our job would likely not have been completed in the time allowed." Peggy was always ready to go the extra mile to lend a hand and do whatever she could to help, and we will sorely miss her cheerful personality and smile and wonderful voice in the days ahead. In lieu of flowers, the family asks that donations be made to the American Cancer Society and/or your local hospice in memory of Peggy Ann Alander.
Special Note
Peggy was a very special person and one of the kindest that I have ever known. She was a consummate professional who cared deeply about her ships and was well liked by her peers and ships alike. Peggy was the type of person who had never met a stranger her whole life.
One of her last comments to me was that, "I better keep taking good care of her ships!"
You will always have a place in my heart and I will miss you friend.
Robert A. Luke
VOS Program Manager
Back to top