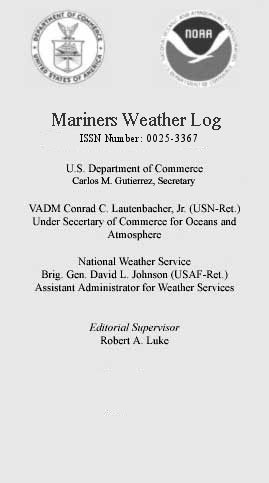 Articles, photographs, and letters should be sent to:
Mr. Robert A. Luke, Editorial Supervisor
Mariners Weather Log
NDBC (W/OPS 51)
Building 3203
Stennis Space Center, MS 39529-6000
Phone: (228) 688-1457
Fax: (228) 688-3923
E-mail: robert.luke@noaa.gov
Welcome once again to another exciting issue of the Mariners Weather log (MWL). I realize that your time is precious this holiday season, and taking time out of your hectic schedule to read the MWL is truly appreciated. Just think of it as "Me Time"—time to hide away from the hustle and bustle of the stores, family issues, and wondering if a chain saw or snow tires is a good gift for your wife.
We offer some nice articles that will enlighten, remind, or at least make you ponder how the physical world operates. Dr. Hsu from Louisiana State University gives an in-depth analysis of significant heights during Hurricane Katrina and also estimating wind speeds during Hurricanes. Skip Gilham offers yet another intriguing article about the loss of the Mataafa due to a Great Lakes' storm more powerful than the one that took the Edmund Fitzgerald. First Class Cadet Naldo Garcia from the State University of New York's Maritime College has provided some great photos and shared his experienced of crossing the Atlantic Ocean this summer. Another great article is a collaboration between the United Kingdom and the Netherlands VOS program managers that tells how the transiting mariners can report unusual sea occurrences, whether meteorological, astronomical, or even biological, by using the "WIKILOG." We also have our stalwart articles that cover the recent climatological events, as well as the in-depth look in the Marine Weather review. The MWL also says thank you to a long time supporter and friend. Mr. Lee Chesneau has finally retired from government service and is striking out in the commercial world. Lee has supported the VOS program and the MWL for many years by authoring such great articles such as "Mariners Guide to the 500-Mb Chart."
Once again, I hope you enjoy this offering of the MWL, so find a nice comfortable spot and have a little "Me Time" on us.
Regards—Luke
p.s— The wife actually does enjoy power tools as gifts—got to love that!
Some Important Web Page Addresses