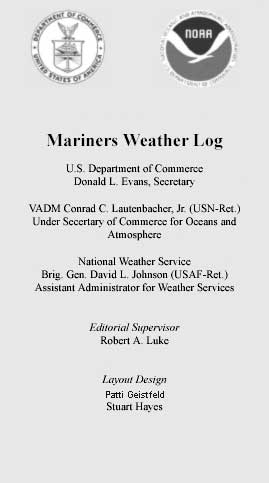 Articles, photographs, and letters should be sent to:

Mr. Robert A. Luke, Editorial Supervisor
Mariners Weather Log
NDBC (W/OPS 52)
Building 3203, Room 305B
Stennis Space Center, MS 39529-6000

Phone: (228) 688-1457
Fax: (228) 688-3923
E-mail: robert.luke@noaa.gov
Hello once again from the wonderful world of VOS. Since the hectic election season is behind us, we now are focused on getting ready for a busy holiday season. Its time to enjoy the hustle & bustle of shopping for that perfect gift, songs melodiously dancing in your head, quality time with the family, and trying not to burn the rolls and upsetting your mother in law. At least the extinguisher was handy & the Chinese restaurant was still open. Sorry, that is a story for another day; but let's just say that someone is still exiled from the kitchen to this day.
These past few months have also been busy ones for the Mariners Weather Log (MWL) as well. Due to the intense tropical season, especially in Florida, the National Hurricane Center could not submit a Tropical Weather Review article for this issue. I am being promised that the next article for the April issue will be well worth the wait. At least we have some other great stories to share in this issue. The National Ice Center offers us a great article about the Arctic Buoy program, and the good folks at Amver help to explain life behind the Blue and White flag. The Meteorological Services of Canada shares their experiences with the "Great Waterspout Outbreak", and there's a story about the use of satellites to detect rogue waves. We also welcome our newest PMO onboard so be sure to read the biography about Ms Peggy Alander down in sunny Port Everglades, Florida.
Once again, I hope you enjoy this offering of the MWL so find a nice comfortable spot to hunker down in and start relaxin'.
Regards - Luke