Historical Nautical Charts Collection: New York Harbor
New York Harbor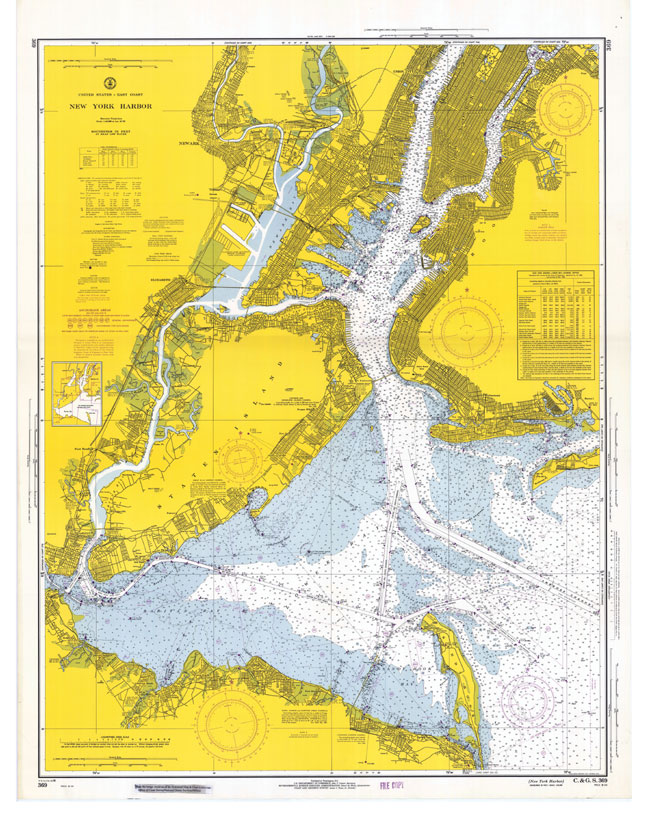 This chart, Figure 10, first published in 1874, includes the water depths, tidal information, and other features typically found on nautical charts, as well as a few other items. For example, this chart includes a logarithmic speed scale, which would have assisted mariners in calculating the length of time needed to reach a destination. The chart also includes a note that, during boating season, small craft warnings were displayed on New York City Police patrol boats. These small craft warnings are perhaps reflective of increased recreational activities in the harbor. Information on the chart also lists stations around the harbor where mariners can receive storm warnings, as provided by the U.S. Weather Bureau (the predecessor agency to the National Weather Service).
Historic Reference
From 1801 through 1966, the New York Naval Shipyard -- also known as the Brooklyn Navy Yard, the New York Navy Yard, and the U.S. Navy Yard --was the site for the construction of numerous military vessels and other ships. The shipyard skirts Wallabout Bay, at about 40°42'N, 73°57'W.
During World War II, when the Navy Yard was at its peak, it employed upwards of 70,000 people. In 1966, the Department of Defense closed the Navy Yard along with over 90 other military bases and installations. At the time of its closing, the Navy Yard employed more than 9,000 workers and was the oldest continually active industrial plant in New York State. Today, most ships in the United States are built by privately owned companies; the U.S. Navy maintains shipyards primarily to support and repair ships.
Works Consulted
Brooklyn Navy Yard. (2006). Brooklyn Navy Yard Web site. Retrieved June 20, 2006, from: http://www.brooklynnavyyard.org/ .
Officer's Row Project. (2006). Officer' Row. Retrieved June 20, 2006, from: http://officersrow.org/index.htm.
Stobo, J.R. (2004). Ships constructed at the Brooklyn Navy Yard. Retrieved June 20, 2006, from: http://www.columbia.edu/~jrs9/BNY-Ships.html.