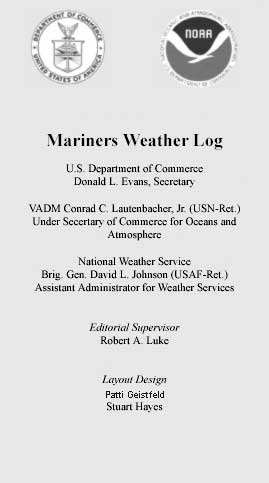 Articles, photographs, and letters should be sent to:

Mr. Robert A. Luke, Editorial Supervisor
Mariners Weather Log
NDBC (W/OPS 52)
Building 3203, Room 305B
Stennis Space Center, MS 39529-6000

Phone: (228) 688-1457
Fax: (228) 688-3923
E-mail: robert.luke@noaa.gov
Welcome aboard! I want to thank you once again for taking the time to read our latest issue of the Mariners Weather Log (MWL.)
I hope the lazy, hazy, crazy days of summer are treating y'all well. As we chatted about last time, the VOS program has had a bit of a personnel shakeup. Ms. Paula Campbell is now fully on line and working her little docksiders off in the port of New Orleans and the entire Mississippi Gulf Coast. Mr. Robert Drummond, the PMO in Miami finally had enough of government service and retired after 29 years. Bob says he wants to stay in South Florida, surf all day & sell coconuts to the tourists - Good luck Bob & hope the waves break in your favor. So now, we have another opening in the PMO ranks - or do we? The Miami office was quick in filling the very active billet so I am pleased to announce that Ms. Peggy Alander is our newest PMO. Peggy transfers in from the salty shores (?) of Goodland, Kansas, but is very well qualified. Peggy is a retired Navy meteorologist that has been searching for her own "Snug Harbor." Let us welcome her aboard and wish her the best. The VOS Technical Lead position brought a very large listing of extremely qualified people. This listing was paired down to three so now we are anxiously awaiting the final decision by our Director.
Ok, now back to this issue. It was an exhaustive search, but I think I found some interesting stories for you this time. We cover the gambit from drifting buoys off South Africa, Alaskan lighthouses, and even an "Iceberg Wrangler."
So now, just find a shady spot, grab a nice cold glass of lemonade and enjoy the MWL.
Regards - Luke