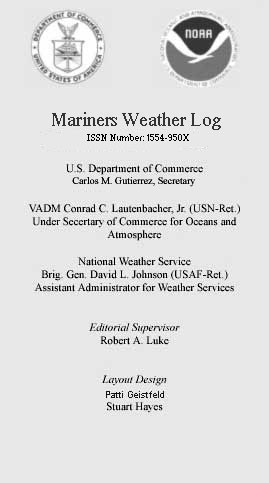 Articles, photographs, and letters should be sent to:

Mr. Robert A. Luke, Editorial Supervisor
Mariners Weather Log
NDBC (W/OPS 52)
Building 3203, Room 305B
Stennis Space Center, MS 39529-6000

Phone: (228) 688-1457
Fax: (228) 688-3923
E-mail: robert.luke@noaa.gov
Hello, and welcome to another exciting issue of the Mariners Weather Log (MWL.) It only seems like yesterday that I was wishing all of you a happy holiday season and looking forward to all the festivities that were coming my way. Well, time stands still for no one so let's take a look at what is in this springtime issue of the MWL.
This was a year of extreme weather and natural disaster related events. This issue has several interesting articles that cover the gambit from the multiple hurricanes making landfall in Florida, typhoons in the Pacific, to the tsunamis in the Indian Ocean. We also offer some updated information regarding the new Port Security guidelines, the use of QuikScat satellite imagery in forecasting tropical systems, some new information regarding the AMVER program, and of course, our Voluntary Observing Ship (VOS) program award winners for 2004.
I kept my introduction short this time to make room for all the great stories to follow. So, I hope you enjoy this offering and I look forward to your comments and reviews of the MWL.
Best Regards-Luke