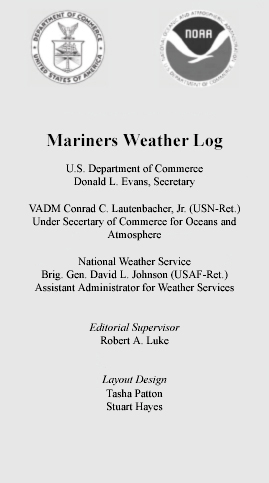 Articles, photographs, and letters should be sent to:

Mr. Robert A. Luke, Editorial Supervisor
Mariners Weather Log
NDBC (W/OPS 52)
Building 3203, Room 305B
Stennis Space Center, MS 39529-6000

Phone: (228) 688-1457
Fax: (228) 688-3923
E-mail: robert.luke@noaa.gov
Welcome once again to another offering of the Mariners Weather Log (MWL). It has been a long cold winter for some of us, while others just endured a constant drenching from the heavens. Well, down here in southern Mississippi, the birds are singing, flowers are blooming and my kids are already hassling me about opening up the pool - go figure. Just like the seasons, the VOS program has undergone some changes as well. Since we last chatted, Mr. Tim Kenefick, our PMO in Newark transferred to our new Charleston position. This allowed Mr. Jim Luciani to join our ranks as the PMO in Newark. You can read all about Jim and his life so far on page 65. Mr. Larry Cain, the PMO in Jacksonville retired, so Mr. John Warrelmann, our PMO in New Orleans has transferred to Florida. Now we have an opening in New Orleans. Wait a minute, Ms. Paula Campbell has just accepted the position there. I hope you have been keeping your scorecards up to date on all of this. But wait, there's more! Mr. David McShane, our VOS Technical Lead for the past three years has just announced that he is leaving the program to become the Meteorologist in Charge of the Weather Service Office in Williston, ND. I don't think that it is a normal port of call, but we will keep you informed. Once all the dust settles, we will let y'all know all about the newest PMO in New Orleans and officially say goodbye to Dave. I wanted to have a nice send-off article for Larry upon his retirement, but it was his wish to go out on a low-key note. All we can say is "Fair Winds and Following Seas Shipmate - Thanks."
Ok, now back to this issue. I hope you find the stories about the hunt for the U.S. Navy's first submarine, Gulf of Tehuantepec winds, or the weather trouble experienced by some Alaskan Tankers as interesting as I did.
So, as long as you are off watch, go find a snug harbor to prop up your feet, grab some coffee, and enjoy the MWL.
Regards - Luke