Shipwreck: Logos
Skip Gillham
Vineland, Ontario, Canada
The missionary organization "Operation Mobilization" has used three former passenger ships to carry Christian literature all over the world. Their first ship, the Logos, was wrecked in 1988 while its successor Logos II was recently sold for scrapping in Aliaga, Turkey. Their DOULOS, a 1914 vintage passenger liner, remains in service.
The first Logos was built at Helsingor, Denmark, in 1949. The 269 foot long by 44 foot, 1 inch wide passenger and freight carrier worked for the Ministry of Greenland as Umanek. It carried passengers and freight between Norway and Greenland and was ice strengthened for the work. This diesel powered carrier put in 22 years of service in the north and was well suited for its work.
In 1971 Umanek was sold to Operation Mobilization and registered in Singapore as Logos. The interior was modified to accommodate the crew of mariners, volunteers and literature displays.
Logos sailed the seven seas. In its career, the ship visited 258 ports in 103 countries. They encourage local mission workers by providing literature and also opened the ship as a bookstore to nationals.
Logos left Ushuria, Argentina, on January 4, 1988, for a voyage through the Beagle Channel and up the east coast of Argentina to Puerto Madryn. At 2354 hours, the vessel stranded on a rocky shoal off Snipe Island in position 54.48 S / 67.08 W and was in serious trouble.
This storm swept region, just north of Cape Horn, did not allow much time for salvage but the authorities were able to remove all who had been on board. Logos was a complete loss and left to the elements. It has been pounded by the seas over the years and is shown, somewhat intact, on December 6, 2001, in a photo by Hubert Hall.
Its successor, Logos II, was built at Valencia, Spain, in 1968 and carried passengers and automobiles between Spain and Morocco as Antonio Lazaro. It was renamed Argo by Greek interests in 1988 and then Logos II later in that year. The ship arrived at the scrapyard at Aliaga, Turkey, on October 3, 2008, and is shown there in a photo by Selim San.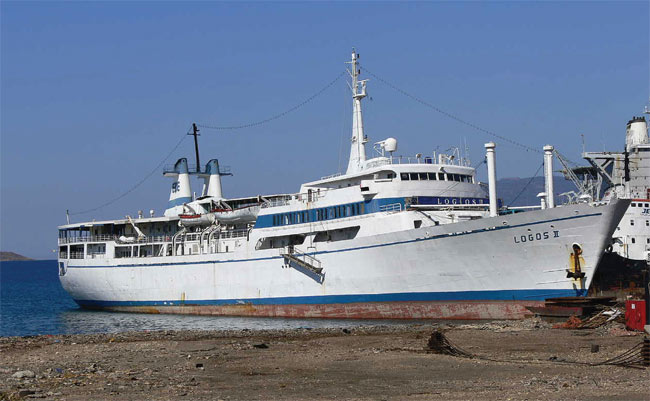 Back to top