Shipwreck: Lubrolake
Skip Gillham Vineland, Ontario, Canada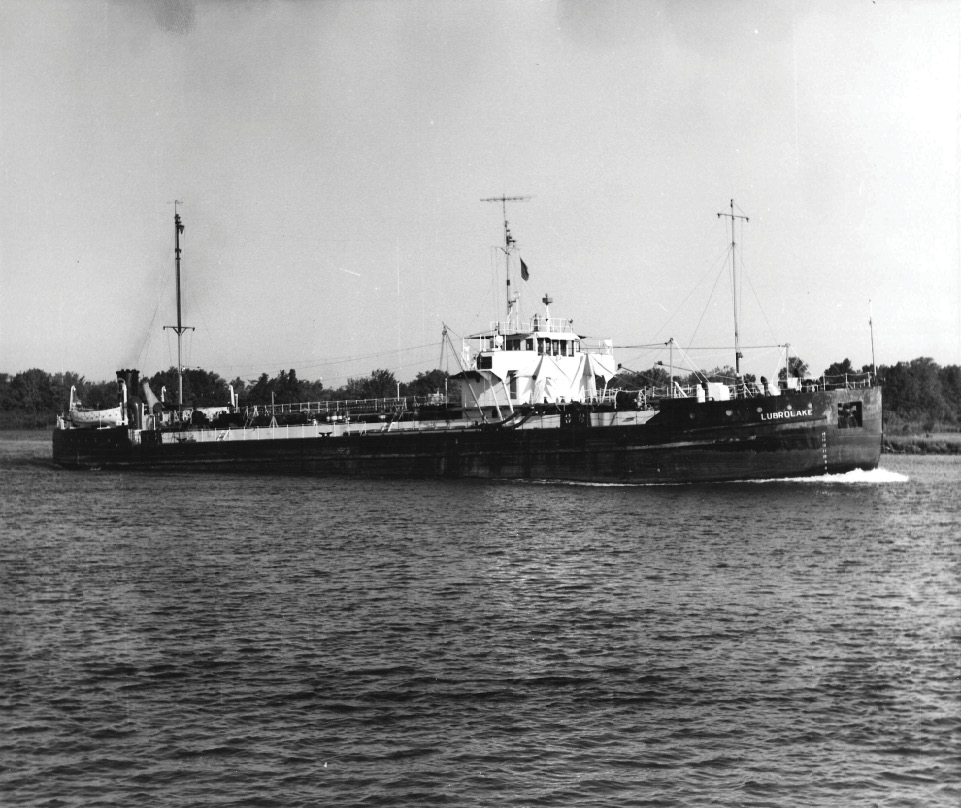 One summer, forty-six years ago, the Canadian tanker Lubrolake was my home as I worked on board as an oiler. The job was intended to finance one last year of university education, but it proved to be an education in so many ways.
I saw parts of Canada that I had only read about in school text books, discovered that the ships I had known growing up in Toronto were rapidly disappearing due to the advent of the St. Lawrence Seaway and observed a wide variety of new ships. These included the French air craft carrier FOCH at Quebec City, passenger liner HOMERIC at Montreal, World War Two vintage Liberty Ships, a few of the small old canal ships as well as wooden-hulled goelettes that carried pulpwood and other general freight to and from harbors on the St. Lawrence that were inaccessible to the larger vessels.
Lubrolake had been built far from the Great Lakes. It was a product of the Pennsylvania Shipyard, Beaumont, Texas, and it was completed in June 1937 for Tankers Inc., a division of Cleveland Tankers and part of the Ashland Oil Company. Originally named Mercury, the 258 foot long by 43 foot wider tanker could carry 22,000 barrels of petroleum and it came to the Great Lakes via the Mississippi River system. A severe fall gale, remembered as the Armistice Day Storm, swept the Great Lakes on November 11, 1940, and left - three ships as a total loss on Lake Michigan. Two disappeared with all hands while the third was wrecked.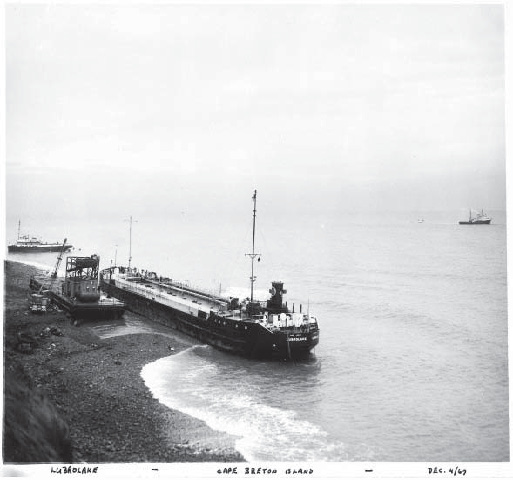 Mercury was also bellieved to have been lost. Fortunately, the Captain found shelter behind North Manitou Island and, although battered, the ship was able to reach safety when the storm subsided.
Cleveland Tankers sold this vessel to Lakeland Tankers, a Canadian subsidiary, in 1947 and it was renamed Lubrolake. The ship underwent modifications at the Collingwood shipyard and these included a new forward cabin and pilothouse. Registry was moved to Canada and the tanker was now listed at 1645 gross tons.
Lubrolake traded through the old St. Lawrence Canal and operated throughout the Great Lakes and down the St. Lawrence. It was carrying furnace oil and kerosene when the ship hit bottom in the Saguenay River en route to Chicoutimi, Quebec, on April 15, 1957. After unloading, the vessel returned to Montreal for repairs costing close to $100,000.
Another grounding was far less serious and it occurred July 19, 1959, when the ship got stuck in the mud inbound from Sarnia to Sault Ste. Marie, Ontario, with a cargo of gasoline and diesel fuel. The tug Laurence C. Turner came to the rescue and the tanker was not dry-docked for the minor repairs until December 1960.
Then, on October 13, 1961, the deep sea tanker Vibex stranded at Quebec City with a load of oil and benzene. A state of emergency was declared and Lubrolake was one of four ships to help lighten some of the cargo from this big ocean tanker to enable it to float free.
I joined the crew on May 13, 1963, in Lock 8 of the Welland Canal at Port Colborne while the vessel was traveling from Ludington, Michigan, to Prescott, Ontario, with a cargo of chemicals. I stayed with the ship until the end of July signing off while we were discharging at Kingston, Ontario. All of our service during this period was on Lake Ontario, the St. Lawrence and Saguenay Rivers. We usually loaded at Montreal visiting a variety of petroleum company docks at the eastern end of the harbor. The vessel is shown later that summer in a photo by William A. Schell.
Lubrolake operated through the 1966 season and tied up at Toronto. It was sold for scrap and departed under tow August 11, 1967, for Hamilton, Ontario. But, before shipbreakers could begin dismantling the hull, it was resold to East Coast interests and towed down the Seaway on September 18, 1967.
The old tanker was en route to Saint John, New Brunswick, for future use as a barge carrying herring and cod to Yarmouth, Nova Scotia, for fish meal and oil when trouble developed. Passing Cape Breton Island, under tow of the Irving Beech, both vessels went aground near the New Waterford, NS No. 12 stone dump on December 3, 1967, (shown) and had to be abandoned as unsalvageable. Both were broken up for scrap where they lay with only portions of the bottom left intact under water.
Back to top